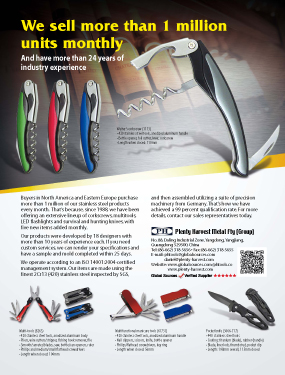 Share:




E-mail

Print

Bookmark
Plenty Harvest Metal Factory (Group).

Follow me

We sell more than 1 million units monthly

Over 24 years' experience | 18 experienced designers

6 Star China (mainland)
Quality Control

QC/Technical Support
Procedures include raw and processed material examination system, production process control system and quality control of products.


QC Staff
30 to 39




Rockwell hardness machine


Material percentage machine

Materials/Components
The US
Japan
Korea
Taiwan
Hong Kong
China (mainland)


Procedures/testing Details
As per customers' specifications, we choose the raw and processed materials for testing, before being used. Production and quality control steps are organized and taken with each order. The finished merchandise are then packaged and shipped after final random inspection of the scales' appearance, accuracy and reliability.


More Information
Contact Details




Plenty Harvest Metal Factory (Group).
No. 88 Daling Industrial Zone,
Yangdong
Yangjiang
Guangdong
China 529500
Tel: (86 662) 3185656
Fax: (86 662) 3185655
E-mail:


Homepage Address
http://www.globalsources.com/phtools.co
Other Homepage Address
www.plenty-harvest.com




Key Contact:
Mr Wong, Daniel



Supplier and product information updated December 09, 2013.
Verified Business Registration Details
Registered Company: 阳东县隆丰实业有限公司
Business Registration Number: 441723000026414
Company Registration Address: 阳东县雅韶镇尖山工业小区


* In some jurisdictions, company names and addresses are registered in Chinese only.